Chinese manja sale soars despite ban
NYOOOZ
HYDERABAD: Despite a nationwide ban, the sale of illegal Chinese manja continues unabated in the city's bazaars. In fact, the slew of bans on its sale in recent years has only pushed its sales into the black market and sent its prices skyrocketing.Wh more....
43 GIBs spotted during census on Vaishak Purnima
The Times of India
Jaisalmer: A heartening news about Great Indian Bustard (GIB) comes two days after a GIB got electrocuted on coming in contact with high tension wire of windmills in Jaisalmer. On Saturday, in a census on Vaishak Purnima, for the first time, 43 GIB w more....
Humans are polluting even the farthest reaches of our planet
The Asian Age
The level of chemicals is so high that it is affecting the crustaceans that are present in the deep parts of the ocean Paris: Banned chemicals are tainting tiny crustaceans that inhabit the deepest ocean, a study said Monday -- the first evidence more....
Yesterdays News (Thursday, July 13, 2017 )

Recession of Himalayan glaciers 'alarming', will have profound impact: ISRO scientists

Waste management: MC tries to bring all stakeholders on board

NGT imposes ban on nylon, glass-coated manjha

Mumbai: Massive loss in mangrove saplings in last 4 years

Mumbai: Massive loss in mangrove saplings in last 4 years


Advertise with Green Media

Be a part of this successful campaign and advertise your events, seminars, conferences, festivals or services, job requirements etc. "GREEN MEDIA" - unique E-newsletter DAILY reaches to more than 3000 environmentalists, wildlife experts, activists, filmmakers and media professionals. For Advertisement contact: cmsenvis@cmsindia.org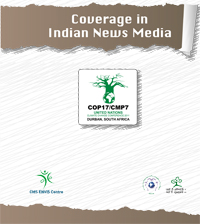 COP 17 REPORT